Pandurang Gramin vikas Pratishthan
   The keel of Shri Pandurang Gramin Vikas Pratishthan was laid by founder Chairman hon'able Pandurang Pawar Saheb in the year 1996. Pandurang Gramin vikas Pratishthan is playing a vital role in developing rural area in India in various ways. This Pratisthan was founded with the grand object of gathering youth in the rural area and inspire them to develop their overall personality and help the needy people in village doing this to serve the Nation .It is Hon'able Pandurang Pawar Saheb's strong conviction that rural youth play a vital role in nation building . Pawar sahib is influenced and impressed by the thought of Mahatma Gandhi to serve the people in village If the youth in village is provided quality education they will get service in administration in various part in the nation and serve the nation. In order to give quality education to the youth in the Eastern part of the Pune district he founded Dilip Walase Patil College of Arts Commerce& Science in Nimgaon sawa,Tal-Junnar,Dist-Pune this Pratisthan influenced by the great tradition of "Varakari Sampraday" and that is why the slogan of this college is "Vishnuvin Jap ..Vyarth Tyache Dnyan" .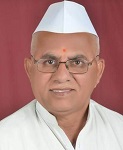 Hon. Pandurang Pawar Saheb
   To start an educational institute in such rural area was a very difficult task but Pawar Saheb accepted the challenge and started this college with great courage. He took upon himself the task of translating his dream in to concrete realities. His entire life is dedicated to the service f the farmers and rural community. He decided to provide them educational facilities, Sports-Cultural activities, employment and reform the rural agro industries, water conservation and its distribution agriculture financial and health sector under the remarkable leadership of shri. Pandurang Pawar saheb.
   Shri Pandurang Gramin Vikas Pratisthan is working honestly to achieve the goal set by him. Shri Pandurang Gramin Vikas Pratisthan is bound to grow enormously under the dynamic leadership of Hon'ble Namdar shri. Dilip Walase Patil, whose entire life was dedicated to the service of farmers and rural community. Pandurang junior College (Commerce & Science) was also founded in 2014.
   The foundation of Dilip Walase Patil College of Arts Commerce & Science and Pandurang junior College was the humble beginning to provide urban facilities to the rural area. In this way Shri Pandurang Gramin Vikas Pratisthan is on the way of becoming role model rural educational center in the nation.