Principal
Desk
   It gives me immense pleasure to welcome and introduce you to Pandurang Gramin vikas Pratisthan's Dilip Walase Patil Arts, Commerce and Science College Nimgaonsawa. Since 2009 college is imparting quality education in Arts, Commerce and Science to the rural and hilly area. The founder of the Pandurang Gramin vikas Pratisthan's Hon'able Pandurang Pawar Saheb had an incisive understanding of the social ills that beset his times and fully realized the dire need of the spread of education as a panacea for all the social ills. From its beginning, the Education Society had laid its emphasis on the education for the downtrodden and the poor that really form the major bulk of the society.
    I feel proud to acknowledge the devotion and contribution of our highly qualified, dynamic, energetic, multi-faceted, multi-talented faculty, a non-teaching fraternity of the college who always strive for the betterment and development of the college in the academic world.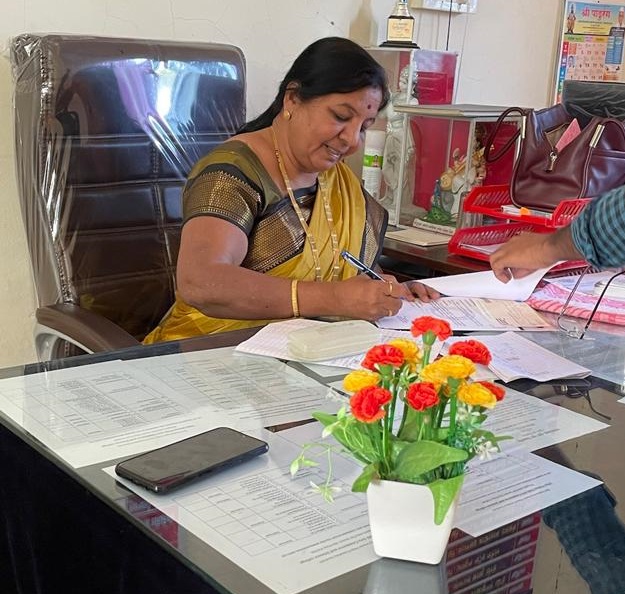 We also endeavor to provide our students with an ambiance, rich in knowledge and favorable to their physical, mental, social and intellectual growth and development. At the outset, the college strives to instill values like morality, sympathy, truth, spiritual development, humanity, integrity, honesty, democratic sense, equality, universal brotherhood, and welfare to lead them towards their holistic development.
   I feel honored to mention that the management of the college has a noble and virtuous vision and is constantly motivating the college to attain its vision and mission. With the motto of Pravara Rural Education Society and under the able guidance of the management, I am sure college will definitely prove to be on the high pedestal in the coming future.
Prin. Dr. Chhaya D. Jadhav
Principal